Why VetAsk.com?
This site came about as the result of wanting to build an online service to help people with questions about their pets.
How does it work?
The idea with starting off the site by offering a free service is intended to achieve the following:
Build a valuable resource of online pet healthcare information
Become known as the first place to go to ask a veterinary question
Enable pet owners to have all the facts and make more informed choices for their pets
Work towards establishing an online community through the site, to encourage pet owners to share information and knowledge
Provide veterinary news and information about new techniques, products and services which will be useful to site visitors
Can I pay for a question to be answered?
At the moment there is a fast track option on submission of a question, whereby a small payment ensures prioritisation. This service may not be available at all times and please note that no guarantee of service can be offered. We plan to introduce further levels of service as the site grows. If you would like to be kept up to date with further developments as we grow the site, register with us and you will receive news and updates by email.
Will you answer all questions submitted?
We can not offer any guarantee of response although we will do our best to answer all questions submitted.
What if I want to donate to pay for an answer to one of my questions, or as a result of finding the pet healthcare help or veterinary information I needed?
We have a donate button which is linked to paypal, through which you can donate using any major credit card if you like the service and would like to make a voluntary contribution towards our overheads. All donations will be gratefully accepted.
Free veterinary Information online
VetAsk is currently offering free veterinary information online. This free information service is in an "open" public format so please bear this in mind if you decide to try it. This is being set up as a trial to start with, to help with awareness building and also to encourage debate and feedback on veterinary issues.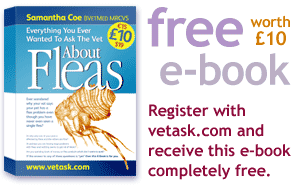 Want the EBook but don't want to register yet?
| | | |
| --- | --- | --- |
| You can buy and download the book right away by clicking the "Buy Now" button! Immediate download following successful payment processing (takes about a minute via PayPal.) | | |

Download Free for Registered Users of VetAsk: "Everything You Ever Wanted To Ask The Vet About Fleas" 7500-word EBook by Samantha Coe BVetMed MRCVS
What's in the Flea EBook from VetAsk?
Have you ever wondered why your vet says your pet has a flea problem even though you have never even seen a single flea?
Or why only one of your pets is affected by fleas and the others are fine?
Or perhaps you are having huge problems with fleas and nothing seems to get rid of them?
Are you spending loads of money on flea products which don't seem to work?
If the answer to any of these questions is "yes" then the information in the VetAsk Flea E-Book could be worth a great deal to you. To get this excellent Ebook, all you need to do is register free with VetAsk. You will then receive an email link to download your Free VetAsk Flea E-Book!
This EBook is packed with useful information: over 7500 words in plain language with no jargon plus easy-to-understand diagrams.
The VetAsk Fleas EBook is essential reading for anyone with a domestic pet. Chapter headings include:
Differences between common fleas
The Life Cycle Of The Flea
How Do Pets Catch Fleas?
Are Fleas Only A Summer Problem?
How Can I Tell If My Pet Has Fleas?
Why Does My Pet Scratch When Bitten By Fleas?
Why Is One Of My Pets Affected By Fleas While All The Others Are Fine?
What Are The Signs Of Flea Allergy In Pets?
How Can My Pet Be Treated For Flea Allergy?
I Think I May Have Been Bitten By Fleas, Is This Possible?
Can Fleas Cause Any Other Problems?
How Can I Treat My Pets for Fleas?
Can Pet Rabbits Be Treated For Fleas Too?
My House Is Infested With Fleas, How Can I Get Rid Of Them?
How Long Will It Take To Get Rid of Fleas In My Home?
Can Fleas Live Outside Too?
What Is The Best Method Of Preventing a Flea Problem?
This EBook can be yours completely free simply by registering with vetask.com now!